Enjoy a rewarding career helping to end Minnesota's pet overpopulation problem!
If you're interested applying to be a MN SNAP veterinary technician, please print and fill out an employment application. When you've completed this step, send your application, cover letter and resume to Office Manager Christie Daluge at office@mnsnap.org.
Download Employment Application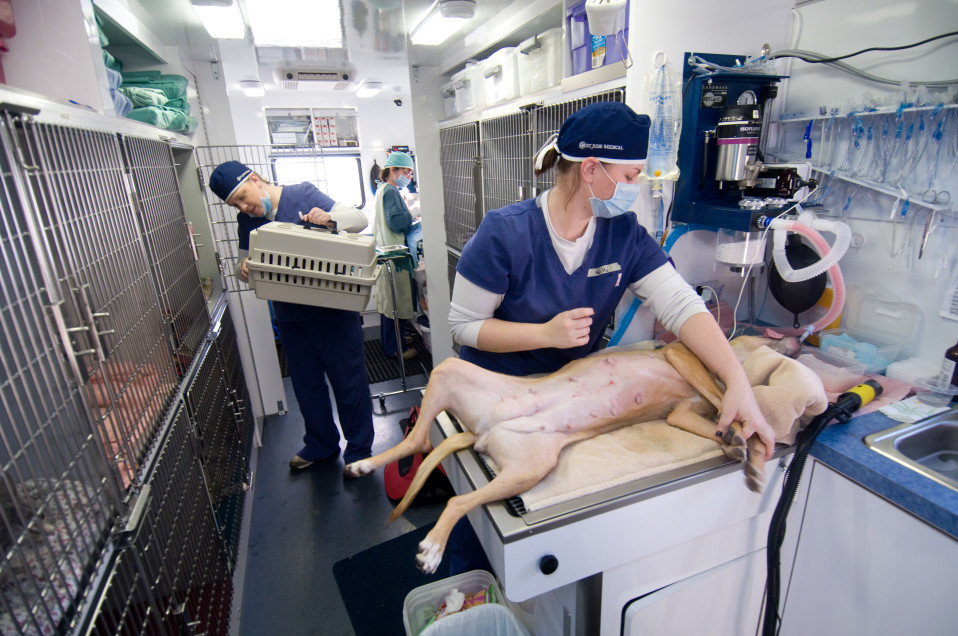 ---
Minnesota Spay Neuter Assistance Program (MN SNAP) offers high-quality, affordable and accessible spay and neuter services to low-income communities, animal shelters, 501(c)(3) rescue organizations and feral cat caretakers. MN SNAP started the first mobile surgery service in Minnesota, and together with its stationary clinic, has subsidized more than 90,000 surgeries since April 2010.
As a MN SNAP team member, you'll have the opportunity to practice the different aspects of delivering high-quality anesthesia and surgery services to dogs, cats and rabbits.
We're looking for a team member to join our mobile surgery clinic. Duties include, but are not limited to: checking in clients and patients; assisting clients with consent forms; reconciling surgery fees; calculating post-op medication doses; filling out sterilization and vaccination certificates; maintaining impeccable and thorough records; discharging patients; cleaning surgery instruments; packing surgery packs; cleaning cages and work areas; stocking supplies; supervising volunteers; assisting clients with scheduling, answering post-op questions; and troubleshooting and maintaining clinic equipment.
We prefer that the candidate have both C.V.T. status and private practice or shelter experience in surgery, but we'll train the right technician. Additionally, the candidate must fit the following description: hard working; prompt; ability to interact positively with team members, clients, volunteers, clinic site hosts and vendors; ability to lift 50 pounds on a continual basis; flexibility in scheduling, including working long shifts and taking out-of-town trips for as long as four days; open and fair communicator; detail-oriented; tolerance for working in extreme weather conditions; and skills to manage multiple priorities in a fast-paced environment.
Benefits include:
•    Competitive compensation
•    Health and dental insurance
•    Retirement plan
•    Short-term and long-term disability insurance
•    Life insurance
•    Condensed work weeks
•    Paid Time Off (PTO)
•    Generous paid holidays
•    Paid continuing education at MAVT Annual Conference