Gifts to MN SNAP are tax deductible
Every dollar counts! At MN SNAP, donor dollars are put to the most efficient and effective use possible.
See how MN SNAP donor dollars are utilized.
MN SNAP incurs many expenses in order to subsidize more than 17,000 surgeries per year. Just our fuel costs for the mobile surgery suite exceed $25,000 every year! General operating funds help us to continue to deliver our mission across the state.
Make a Donation
Many MN SNAP supporters wish to partially or fully subsidize a surgery, help pay for supplies or sponsor a clinic. The links below take you to our fundraising pages, which outline options for directing your gift.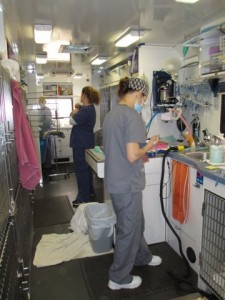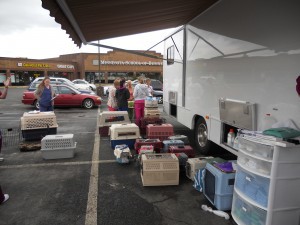 Workplace giving programs are a way to leverage your donation with your employer's ability to process and even match your dollars. Ask if your employer sponsors a workplace giving program.
If your employer supports a workplace giving program, your employer's payroll department handles everything! Donations to MN SNAP from each paycheck add up to a significant gift over a one-year period. Many employers will match your monetary donation to MN SNAP, allowing your money to work twice as hard at saving animals by reducing overpopulation. You can help MN SNAP by finding out if your company has a corporate giving program or foundation. Many companies also match funds to time spent volunteering, offering a set number of dollars in exchange for time contributed to the organization.
Below is a sample list of companies who have established workplace giving and/or matching gift programs. If your company is on the list, remember to send in a matching form with your donation next time you give to MN SNAP. If your company is not on the list, please inquire if they have such programs. Your company's HR department should be able to provide you with the form or will know of the presence of these programs.
Ameriprise
Microsoft
Prudential
Sandisk
TCF Bank
Thrivent Financial
United Health
United Way (see United Way Tab)
University of Minnesota
Wells Fargo
To learn more about workplace giving, please contact us by calling 612-720-8236. If you choose to establish a workplace giving payroll deduction, please contact us at info@mnsnap.org so we may thank you!
Leave a legacy that will help save lives by reducing pet overpopulation!
A planned gift or legacy gift will help to ensure that MN SNAP will be there for those pets and families in need. These gifts provide an estate tax deduction and have a tremendous impact on our ability to continue our ongoing mission to help end the death and suffering of homeless animals due to pet overpopulation by providing high-quality, affordable, and accessible spay and neuter services to those in need.
In recent years, a variety of donors has informed us of an intention to include a gift to MN SNAP in their wills. Considerations for giving include the purpose of the gift, funding source, impact to income, estate tax planning and impact on family members from your contribution.
Please consult with your legal counsel to help best decide the process and necessary language.
Planned giving pledges will be honored in MN SNAP's annual report.

United Way processes workplace payroll deductions and will forward to the charity of your choice. While animal related charities can't be United Way agencies, supporters may donate to MN SNAP through United Way. You may make your donation to MN SNAP through United Way as follows:
Use the payroll deduction option titled 'restrict my gift' and complete this section (bottom of page 1)
Indicate donor choice
Enter MN SNAP's name and address
Minnesota Spay Neuter Assistance Program
2822 Washington Ave. N.
Minneapolis, MN 55411
If you choose to establish a workplace giving payroll deduction, please contact us at info@mnsnap.org so we may thank you!
Payroll Deduction Donation Form